Feast Day Services
Therefore, since we are surrounded by so great a cloud of witnesses, let us also lay aside every weight and the sin that clings so closely, and let us run with perseverance the race that is set before us – Hebrews 12:1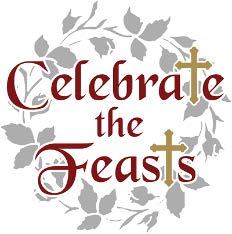 As Christians we believe in the Communion of Saints – that is, we believe that all those who have died to themselves in the waters of baptism, are united together as one body in Christ. Indeed, we believe that Christians both living and dead are forever united in this body. On November 1st (or, in our case, the closest Sunday to it) we celebrate the Feast of All Saints in remembrance of all those saints who have gone before us, especially those saints whose witness and example have inspired us on our pilgrimage.
Likewise, our Anglican/Episcopal tradition sets aside special days during the year where we remember the lives of particular saints whose examples of holiness and perseverance inspire us as we seek to follow the path Jesus has trod for us.
These feast days are typically set on the dates traditionally associated with their death or martyrdom and are, in a sense, celebrations of their heavenly birthdays. The Christian Year as laid out in our Book of Common Prayer sets aside many such feast days for Biblical saints such as the apostles, the evangelists (authors of the Gospels), and several commemorating events in the life of Jesus or St Mary the Virgin. There is great value in marking these feasts, or holidays, within the life of our parish church as it gives us time to reflect on how we too are called to be saints in the 21st century.
Starting at the beginning of this coming Church Year in November, we will be observing the major feast days found in the Book of Common Prayer with at least a simple said Holy Eucharist at 6:00 PM on the day of the feast. I hope you will join us in marking these holy days with us as they are a wonderful opportunity for us to grow together in holiness together. The following is a list of the dates:
Thursday, Nov. 30th – St. Andrew, Apostle
Thursday, Dec. 21st – St. Thomas, Apostle
Thursday, January 18th – the Confession of St. Peter, Apostle (Beginning of the Week of Christian Unity)
Thursday, January 25th, – the Conversion of St Paul, Apostle (End of the Week of Christian Unity)
Friday, February 2nd, – The Presentation in the Temple (Candlemas)
Wednesday, April 25 – St Mark, Evangelist
Tuesday, May 1 – Sts. Philip and James, Apostles
Thursday, May 31st, – The Visitation of the Blessed Virgin
Monday, June 11th – St. Barnabas, Apostle
Monday, June 25th – the Nativity of St. John the Baptist
Friday, June 29th – St. Peter and Paul, Apostles
Monday, July 23rd – St. Mary Magdalene
Monday, July 25th – St. James, Apostle
Monday, August 6th – The Transfiguration
Wednesday, August 15th – St. Mary the Virgin (the Dormition)
Friday, August 24th – St. Bartholomew, Apostle
Friday, September 14th – the Exaltation of the Holy Cross
Friday, September 21st – St. Matthew, Evangelist
Thursday, October 18th – St. Luke, Evangelist
Tuesday, October 23rd – St. James of Jerusalem
Monday, October 29th Sts Simon and Jude, Apostles